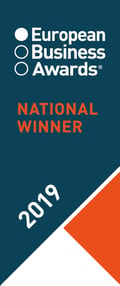 Integrity360 has been named 'National Winner' in the 2019 European Business Awards, one of the world's largest business competitions. This is the company's second time receiving the title having been announced as National Winner in the 2016/17 Awards.
The company was chosen from 2,753 businesses named as 'Ones to Watch' in a list of business excellence published in July and selected as a National Winner by a panel of independent judges including business leaders, politicians and academics. It is the best business in Ireland in The Business of the Year Award (with Turnover of €26-150m) category and will now go on to represent Ireland in the final stage of the competition.
Adrian Tripp, CEO of the European Business Awards said: "This is a significant achievement to be chosen as a National Winner. It means you show great innovation, ethics and success and are one of the best businesses in Europe."
Integrity360 is now invited to Warsaw, Poland on the 3rd and 4th of December to complete a final round of judging and attend both a Summit to engage in business issues, and the Gala Ceremony where the overall category winners for the 2019 European Business Awards will be announced.
About the European Business Awards
The European Business Awards is now in its 12th year and its primary purpose is to support the development of a stronger and more successful business community throughout Europe. This year it considered over 120,000 businesses from 33 countries.
More information: www.businessawardseurope.com