I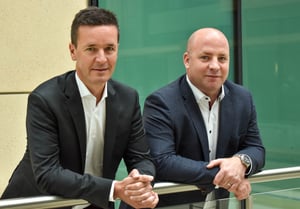 ntegrity360 is delighted to welcome two new additions to our growing sales team, John O'Driscoll as Head of Sales and Fergus O'Donohoe as Account Director.
With over 20 years' experience in sales, John O'Driscoll joins Integrity360 from BT Ireland. In his previous role, John was responsible for leading the retention and acquisition strategy for all Global Multi-National Corporations and new Foreign Direct Investment in BT Ireland. Prior to that, John held the position of Director of Sales and Marketing at Secure Solutions Group Ireland, G4S.
John holds a Masters in Strategic Sales Management from UCD Smurfit and a Diploma in Coaching and Mentoring from the Chartered Management Institute.
Speaking about his new role, John said, "I chose Integrity360 because it's the largest cyber security company in Ireland and the company is assisting and empowering organisations in an era when the threat landscape is ever evolving, I'm delighted to join the company and I look forward to further building the brand, and meeting and assisting our clients with their business critical needs."
Fergus O'Donohoe has been a sales professional in the Irish IT Industry for the last twenty years. Over the last four years he has been working with Gartner Ireland supporting CIOs and senior IT Executives with their priorities including business transformation programmes, leadership development and strategic insights on digital business and innovation. Almost half of his career to date before this was with HP in various business development roles across their enterprise networking and data centre services business.
Speaking about his new role, Fergus explained that "the risks posed by cyber criminals to business and enterprise continue to evolve and expand. Cyber security risk management is a critical priority for not just IT leaders but all senior business executives and Integrity360 is a dedicated hub for passionate cyber security professionals who are committed to helping their clients defend their businesses from cyber threats. I'm really excited about working with Integrity360 to empower these clients to achieve great things securely "
John O'Driscoll Linkedin
Fergus O'Donohoe Linkedin