In 2017, two new ICT apprenticeship programmes were launched by Fast Track into Information Technology Limited (FIT Ltd). The first six months of the programmes are intensive college-based learning where apprentices are equipped with the necessary technical acumen. The remaining 18 months are a combination of on-the-job experience supplemented with college-based instruction.
Since taking off, the tech apprenticeship programme now has over 100 employers and 250 tech apprentices in place with support across sectors from MNCs, the Civil Service and Public sector, to SMEs.
Integrity360 got involved in this programme in 2019 and since then, have had apprentices progressing through the network engineer programme with further apprentices being welcomed later in 2020 in the cyber security programme.
Speaking about the programme, Derek Ashmore, Professional Services Manager noted, "We really value this programme and welcomed its introduction as one way of responding to the skills shortage in Ireland. The apprentices bring an energy and fresh thinking approach to our teams and have fitted in seamlessly since they've joined us.
In Integrity360, we put a huge focus on hands-on learning and on industry certifications and this programme has a balanced mix of both of these things. The programme has an excellent list of companies now associated with it and we're very supportive of its growth and development into new IT areas such as cloud and cyber security in the future."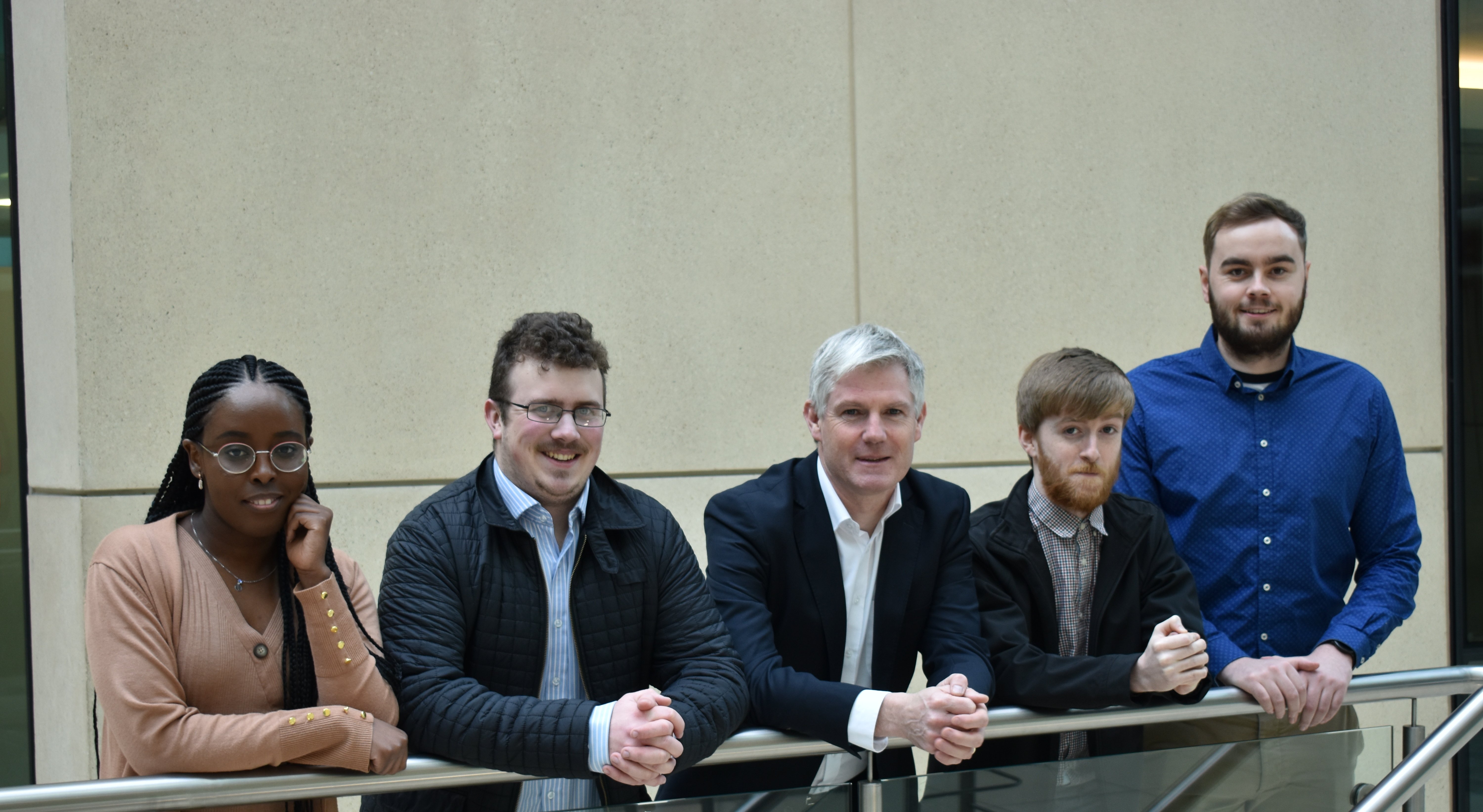 L to R: Hellen Gathua, Matthew McNulty, Derek Ashmore, Luke McMahon, Dave Green
Three of our apprentices, Dave Green, Hellen Gathua and Matthew McNulty share their experiences of the programme below to give a greater insight into the programme.
Dave Green
"The programme has provided me the fundamental knowledge to begin my career as a Network Engineer. It has also given me the opportunity to gain valuable work experience. The combination of college and work has been a very engaging experience. Knowledge and skills learned in college are given meaning as we get opportunities to apply them in work.
Our peers have been extremely friendly and approachable from day one- making us feel welcome. Everyone is eager to share their experience and help us learn and improve. As we've developed, we've been slowly given more responsibility and look forward to being involved with projects in the future. I look forward to being exposed to more, taking on new responsibilities, and being involved in future projects.
I would recommend the programme to anyone interested in starting a career in the IT sector. It has provided me an opportunity to gain valuable work experience in one of Ireland's leading Cyber security companies, and to learn from many talented people. The balance of work and college also creates an interesting learning dynamic. The chance to apply the new knowledge and skills facilitates constant improvement and growth."
Hellen Gathua
"For anyone who's interested in cyber security, networking or IT in general then the programme would be a great starting point. The programme allows you to evolve and continue learning while working with cutting edge technology and involves tasks such as designing, building and maintaining computer networks.
It is challenging as it incorporates both new and old technologies and the learning is carried out both in theory and lab work but the company is very flexible with great people who are willing to share their knowledge."
Matthew McNulty
"I am finding the programme very interesting. I love the work placement aspect of it as you get hands-on experience. As well as getting the work experience you also have the qualification at the end of the course."
More information
This programme aims to scale further over the next two years to 450 employers and 1,000 tech apprentices. The Cyber security apprenticeship is the newest programme recently introduced due to the huge demand received for it. Further programmes in DevOps, Blockchain, Cloud and others are also in development by FIT.
If your company is interested in getting involved in an upcoming programme, please contact Edel Hesnan: edelhesnan@fit.ie / 018825570 for more information. Alternatively, visit www.fit.ie to find out more about the programme