After years of increased threat complexity, most organisations simply don't have the resources necessary to build an in-house cyber security strategy that's equipped to deal with modern threats. 
This indicates that many organisations are turning to third parties to help them navigate the threat landscape and mitigate cyber risks, with many of these organisations turning to Managed Detection and Response (MDR) providers to help enhance their existing cyber risk management strategy in a way that's cost-effective. 
How Does MDR Work?
MDR helps enterprises augment their cyber risk management by providing them with remote support from a 24/7/365 Security Operations Center (SOC). Security analysts in the SOC leverage the latest threat intelligence to conduct threat hunting and identify intruders quickly before they have a chance to access critical data assets. 
These highly specialised teams have all the expertise and resources needed to identify and contain advanced threats, even if they're using obfuscation techniques, enabling them to address security incidents in the shortest time possible. 
While no two MDR services are the same, top providers offer a range of external support, including: 

24/7 Detection, active management, and containment of threats 

Comprehensive threat intelligence 

Proactive threat hunting 

Platform implementation, configuration, and tuning 

Incident management 

Change management 
Many organisations choose to work with MDR providers to augment the baseline security controls that exist within their environment and to reduce the level of cyber risk by optimising their incident response capabilities so that they can detect and contain data breaches faster so that there's less operational impact. 
An MDR provider can also help an organisation identify what people, technologies, and infrastructure the business relies on and provide insights to help develop a proactive strategy to mitigate any threats they may face and to maintain the privacy of confidential data.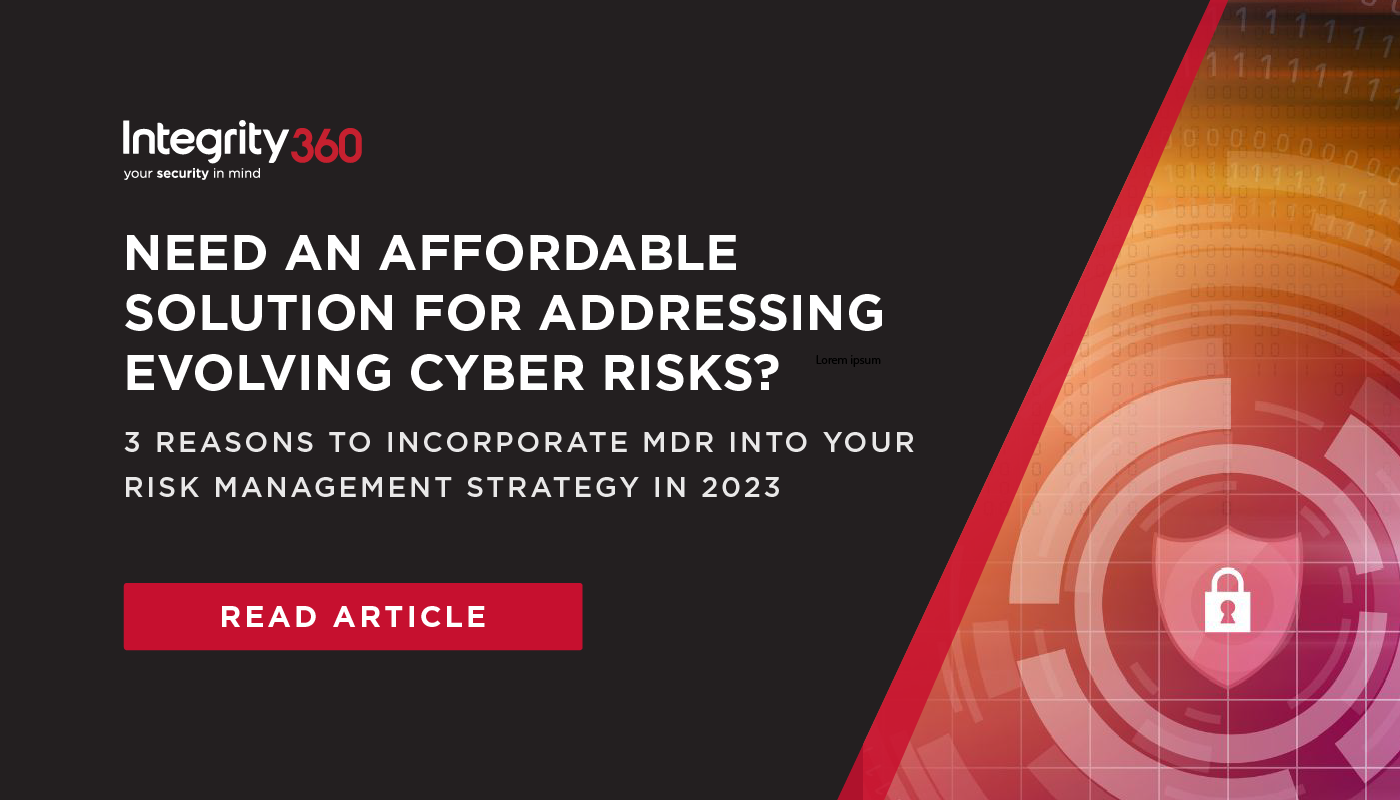 Here are some of the ways that MDR can help augment your risk management strategy: 
Identifying and Addressing Priority Risks and Use Cases 
One of the main ways that an MDR provider can help mitigate cyber risk is by pinpointing the priority risks that an organisation faces and identifying ways that MDR can mitigate those risks, whether that's cloud compromise, phishing attempts, social engineering, credential theft, ransomware, or malware. 
As part of the mitigation strategy, the MDR provider will conduct alert tuning, tuning SIEM, EDR, and SOAR platforms to generate relevant alerts on malicious activity. Proper tuning ensures that the alerts sent to the SOAR are high fidelity and reduces the chance of overwhelming analysts with false-positive alerts. 
An MDR provider will also take charge of creating incident response playbooks for each security risk to your organisation so that your internal employees know how to respond to threats on a case-by-case basis. This ensures there's no ambiguity in the response process and decreases the risk of making mistakes that can amplify a security incident.
Ongoing Risk Management and Incremental Improvement 
All high-level security strategies need to evolve to stay effective, and an MDR service provider can share valuable guidance, security insights, and threat intelligence updates that you can use to inform your security strategy going forward. They can also offer recommendations on how to improve your security posture over time. 
Continuous improvement is essential for ensuring that your security controls stay up-to-date so that you're prepared to combat the latest threats. Then if any new threats emerge, your MDR provider can expand their service to address these new cyber risks. 
For instance, if cyber criminals start to use a new type of exploit or you change your infrastructure, then your provider can advise you on what precautions you need to take to eliminate vulnerabilities. For example, if you deploy a new cloud service, then your MDR provider can help you implement greater protections against cloud compromise to reduce the chance of intrusion. 
Cost-Effective Incident Response
One of the key decisions every organisation has to make is how much they will invest in cyber security and their overall risk management strategy. For many organisations, the cost of running a SOC that's equipped to perform optimal incident response is more than they're able (or willing) to pay. 
MDR enables organisations to increase the cost-efficiency of their cyber security investment by providing them with access to optimal detection and response capabilities on a retainer basis. 
Rather than paying for security tools and analysts up-front, an organisation can pay for access to a state-of-the-art SOC on a subscription basis and ensure they have an effective incident response process in place to deploy during security incidents. 
Insider Threat Management
Insider threats are something that many organisations struggle to address due to the complexity of implementing complete identity and access management controls. Unfortunately, the reality is that if a malicious insider has physical access to a system they want to compromise, they will achieve it at some point or another. 
An MDR service can address the complexity of insider threat management by developing a strategy for controlling identity and access management and proactively monitoring employee behaviour to identify malicious activity.
For example, an MDR analyst can identify if a user is committing repeated security policy violations, such as trying to access privileged data they're not authorised to access, and notify the organisation's internal admin so that they can investigate further.
Proactive Compliance Management 
Managing and maintaining regulatory compliance is another area where many organisations are confused about all the obligations they have to protect their data. After all, there are so many different regulations that it is almost impossible to keep up with them all.
Working with an MDR provider can help make compliance management more manageable, as external analysts will communicate with the organisation to highlight security gaps and suggest controls, they can implement to maintain their compliance standing.   
An experienced provider will explain how to remain compliant with regulations including PCI, HIPAA, HITRUST, NIST, ISO, GDPR, and SOC 2 and assure alignment with a comprehensive regulatory framework that you can use to maintain your compliance posture long term.
This approach is preferable to going alone because you have the benefit of an outside perspective, who can impartially assess whether you're actively meeting regulatory requirements and identify gaps you need to address. 
Cyber Risk Management Made Manageable
MDR makes cyber risk management much more manageable by providing you with immediate access to expert guidance and increasing the cost-efficiency of your security strategy. Their expertise will enable you to adapt to address the latest threats and consistently meet regulators' expectations. 
Want to find out how MDR can help simplify your cyber risk management? Contact us today.