We're delighted to announce that the keynote speaker for our upcoming Security First Conferences in London (March 22nd) and Dublin (April 27th) will be cybercrime investigative journalist and author Geoff White.
What is Security First?
Security First is Integrity360's event series that brings together experts and industry leaders from the cyber security industry to discuss the latest threat landscape developments and industry insights and offer actionable advice on how to protect organisations from the most prevalent cyber threats in 2023.
Introducing our Keynote Speaker Geoff White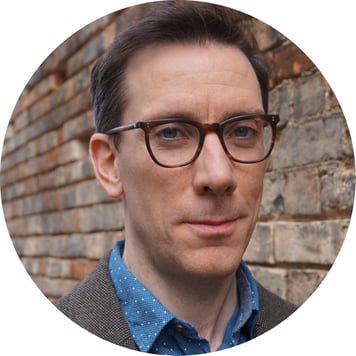 During his career, Geoff has published a number of books and covered major topics including election hacking, money laundering and cyber heists. He is a seasoned author, speaker, investigative journalist, and podcast creator and has spent two decades investigating the nexus between technology and organised crime.
During his career, he has explored a wide array of subjects, including election hacking, the dark web, and the personal data trade. Penguin Random House published his latest book, The Lazarus Heist – From Hollywood to High Finance: Inside North Korea's Global Cyber War, on 9th June 2022. His next book, 'Rinsed', reveals technology's impact on the world of money laundering.
He has shared his insights with media outlets like BBC, Channel 4 News, and The Sunday Times and will share his insights with you at Security First!

What else is on the Agenda?
Integrity360 speakers will include our CTO Richard Ford, Head of Product Management, Brian Martin and Director of Solution Architecture Nick Brownrigg.
Brian will be discussing the latest cloud trends and their impact on cyber security, including developments across public and private cloud and Software-as-a-Service (SaaS), the impact of security tools and platforms migrating to cloud, and cloud security in the modern hybrid working world.
Nick, will deliver a fascinating talk on why the concept of identifying threats is being neglected. This session will explore modern-day exposure management, how the market has predominantly focused on detection and recovery, and how technology can be used to proactively identify cyber threats. 
Finally, Richard will cover one of the vital elements of cybersecurity; visibility. He will explain how it is vital for detecting threat activity and will look at how you can gain the threat visibility you need pre, peri & post incident, the technology innovations to take advantage of and, importantly, the processes needed to embed effective threat monitoring, detection and response within your organisation.
We'll have a variety of panel discussions that cover customer challenges around threat detection and incorporate the different experiences and views from Darktrace, Rapid7 and XM Cyber together with our Deputy CTO, Josh Uddin.
Patrick Wragg, our very own Cyber Threat Response Manager will share first-hand experiences from the frontline and how ransomware has evolved. Not only in the way it impacts and extorts organisations but also in the methods used to become the super-threat it is today.
Several industry leaders, as well as Integrity360 partners, will also be speaking at the conference – including our Platinum sponsors Varonis and Checkpoint.
Other sponsors include: Splunk, Mimecast Zscaler, Fortinet Vectra, Armis, Gytpol and Claroty
These sessions will touch on topics such as how to gain data visibility and the benefits of Managed Detection and Response.
View the full Agenda HERE
Who should attend Security First 2023?
The content of this cyber security conference is relevant to organisations across all industry sectors and is designed to meet the needs of those who have responsibility for managing IT Operations, Cyber Security, Governance, Cyber Security Compliance or Risk Management.
Speaking about the conference, Richard Ford, CTO, Integrity360, said: "It's fantastic to be returning to London and Dublin for this year's Security First Conferences and we are delighted about the interest already. It really shows that cyber security continues to be a top priority for businesses and individuals."
Register for Security First 2023 today
Reserve your spot now in order to secure your space. You'll also find regularly updated information on the agenda, keynote speakers, and FAQs there.
Once you've secured your ticket, be sure to let us know on our social platforms (LinkedIn, Twitter).
We look forward to seeing you there!