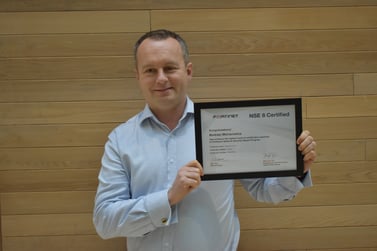 Integrity360 is delighted to recognise our cyber security consultant, Andrzej Melnarowicz on being one of only four people in Ireland to have completed NSE8 (Network Security Expert) Fortinet certification. Described as the 'complete mastery of network security', NSE8 is an industry-recognised certification that certifies expert knowledge in the complexities of both modern cybersecurity as well as the industry-leading Fortinet security solutions.
The Fortinet NSE8 certification recognises a candidate's comprehensive and in-depth ability to design, configure, and troubleshoot network security using Fortinet products in complex networks. This interdisciplinary exam covers topics including advanced routing & switching, application delivery and security, SIEM and access management.
Vast industry experience is essential in order to complete the 17 hour written (2 hour) and practical (15 hour) exam. As such, it is the top level in the Fortinet certification program and is designed to reflect best practices using Fortinet solutions in the networking and security industry. A total of 0.1% of Fortinet certified individuals are NSE8 certified.
Integrity360 is now one of only few Fortinet partners in the world to be specialised in all 8 advanced technologies, incl. enterprise wireless, access management, web application firewalling, application delivery, email protection & sandboxing. Completion of this exam proves Andrzej's knowledge and expertise in accruately assessing and adrressing client needs and ensuring that solutions are deployed in accordance with best practices.
This certification compliments Andrzej's Check Point Certified Security Master (CCSM), enabling him to offer independent and expert advice when designing and building best-of-breed solutions for Integrity360 clients, while ensuring that they get the most from their infrastructure investments.